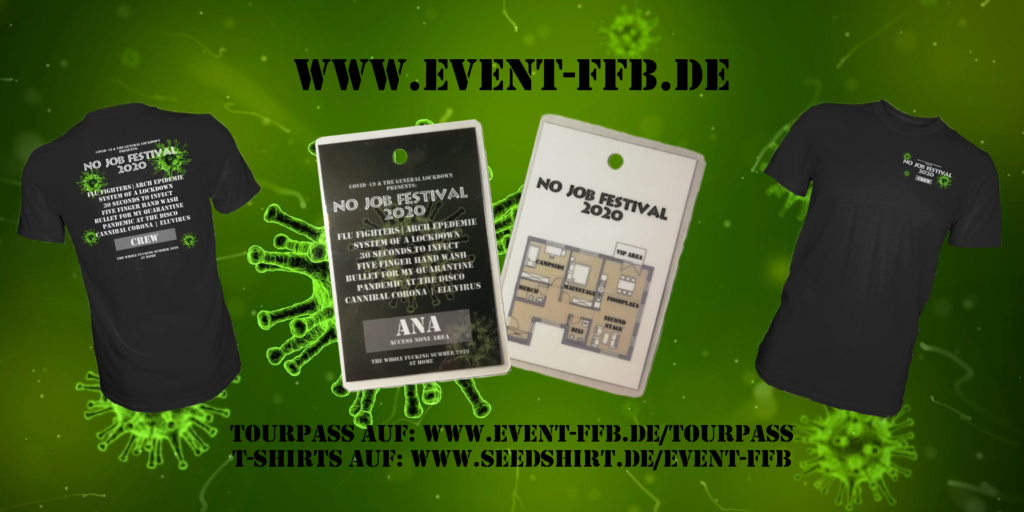 Click here to order your Shirt!
Use the form below to order your pass!
BESTELLUNG – TOURPASS "NO JOB FESTIVAL"
Wir alle haben durch die Coronakrise mit harten Zeiten zu kämpfen.
Doch sind wir sicher – es geht weiter! Und irgendwann wenn wir unsere gesammelten Tourpässe durch gehen soll auch die (schmerzliche) Erinnerung an dieses Jahr ihren Platz haben.
Daher könnt ihr hier den Tourpass zum "No Job Festival 2020" bestellen.
Vorder- und Rückseite bedruckt. Maße: 61 x 93 mm
Bitte beachtet:
Kosten pro Tourpass 2,70 € inkl. MwSt zzgl. 0,80 € Versand*
Direkt nach der Bestellung bekommt ihr eine EMail mit Bestätigung und Zahlungsinformationen (bitte Spam Ordner checken)
Der Versand erfolgt nach Zahlungseingang.
Bei Bestellungen von mehr als 4 Stück oder Versand ins Ausland bitte ein Mail an: shop@event-ffb.de
Den Tourpass haben wir bei einer Druckerei herstellen lassen um die Qualität gewährleisten zu können.
Please notice:

Price per piece 2,70 € incl. Taxes. Worldwide shipping: 3,20 €
You will recive the confirmation directly after your order. Check your Spam as well!
If you want to order more than 4 pieces please send a mail to shop@event-ffb.de
Idee, Design und Umsetzung: Christoph Burghart
*Versand im Standardbrief. Max. 4 Pässe pro Brief.